Willow Creek Church
McPherson & Brown Co's., SD
1883-1952
1895 map of McPherson Co. & Brown Co., S. Dak.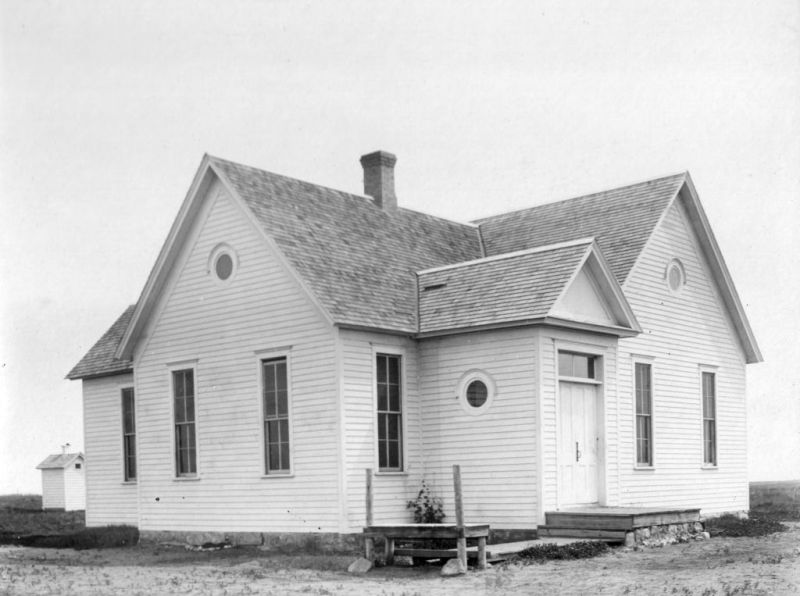 Photo of church taken before 1908
History of the Northern Plains, 1944 Church of the Brethren 1977
Page 173
Willow Creek Church, Wetonka, South Dakota
In the spring of 1883, W. W. Horning and family migrated from the Rock Creek congregation in Whiteside County, Illinois, to a location in McPherson County, South Dakota, about eighteen miles from Frederick (now Delhi), to take up frontier life. There was not a house in sight when they arrived. But soon shanties began to appear.
In that year, two minters, James Evans and J. M. Mansfield, arrived with their families, making a total of nine.
Feeling the need of an organized body, these Brethren proceeded to organize a church late in the year of 1883, with the help of Brethren William Cook of Byo, South Dakota, and Jacob Murray of Chamberlain, South Dakota. W. W. Horning was ordained to the eldership at that time.
A sightly different account is given of the beginning of this church as recorded in the biographical file of David Rittenhouse, written by A. H. Rittenhouse of Mount Morris, Illinois about 1935. It states:" In 1883, (first name not given) Horning (married Priscilla, daughter of David Rittenhouse 1799-1880), went to Frederick (now Delhi), South Dakota, where he and other workers established the Willow Creek Church in Brown County. Twenty-seven persons were in the Horning party emigration from Illinois to South Dakota. It took nine freight cars to transport their effects:
Among the families that came from Illinois were David Horning, deacon, and Samuel Horning, who later became a minister. Others were George and Henry Heagley with their families. Both wives were daughters of William Horning.
Meetings were first held in tents during the summer and in winter in the home of W. W. Horning. Love feast were held in homes, under trees, or in a new barns. These occasions drew large crowds, some persons coming long distance in wagons to participate and some coming to observe. When a schoolhouse became available, services were held there. Singing school classes were conducted by W. W. Horning. He loved to sing and taught many to sing. Soon the Willow Creek Church became know for their good singing. They enjoyed many occasions of singing gospel songs in each other's homes.
In 1895, a series of meeting was held by Elder Strickler of North Dakota, whose soul-stirring sermons resulted in many conversions, at this time. Samuel Horning was elected to the ministry and J. M. Mansfield was advance in the ministry, In 1900 O. J. Beaver preached with great Pentecostal fervor. Among the converters were Grant Tooker and George Heagley, who were later elected to the ministry and in 1907, were ordained to the eldership.
As the congregation grew, step were taken to provide a larger place. John cooper donated five acres of ground for a building site, which also included a cemetery plot and lace for a barn. Funds were raised by the Brethren with the help of community friends, and a nice commodious church was constructed. All work on the building was donated labor, including the seats and the pulpit. The church was dedicated fee of debt, June 1901, with elder O. J. Beaver preaching the dedicatory sermon to a crowed house.
O. J. Beaver returned late to conduct a series of meetings with more conversions. To administer the rite of baptism, it was necessary to break the ice on the creek.
In 1904, John Moore was elected to the ministry, and about that time. Eva Heagley Hurst went to Winona to do mission work.
In the earlier days of the congregation, there was much activity. Members went to outlying points to conduct Sunday School; the young people organized and held live Christian Workers' meeting; the sister held Bible study classed in the homes, and the Sunday School held vacation schools, District Meetings was entertained in 1924. And interest in mission produced three members going to China; Emma Horning, Dr. D. L. Horning, and Fern Heagley Coffman.
The history of the Willow Creek Church indicted that evangelistic services where held frequently. Among the name of other evangelist who held meeting were Brethren Root, Souders, Swallow, Shrock, Austin, Garber, and Nora Shively, IN 1929, J. A. Eddy held the last revival meeting in the church with seven baptisms.
The church grew by immigration and baptism. At one time, the church roll numbered over one hundred. Them, gradually, members began moving into other fields of service or south homes elsewhere, leaving a very depleted membership. In addition to the departure of lay members was the loss of ministers: O. E Stern and Family, preaching and farming from 1928-1931; W. W. Horning moving to California; George Heagley to Illinois.
In 1931, Grant Took returned from California and was place in charge of the church, serving until 1936. Then because there was no resident minister, the elders of the district took charge for several years. They helped secure summer pastors, mostly young men, who came and lived among the congregation and enjoyed the hospitality of the Harry Loomis Family: Ruth Eddy, 1932; S. Steman, 1940; Eugene Lichty, 1941; Galen and Rachel Allen, 1942; Ralph Martin, 1943-1944; Alvin and Myrtle Kintner, 1945; Warren Hoover, 1946; Russell and Eunice Jarboe, 1947; Homer L. Heagley, 1948; Lowell Luck Heagley, 1949.
In 1951 and 1952, Paul Ritchie came as summer pastor. During the winter months, the attendance became too small to continue services and eventually the District Mission Board decided to close the church. Some of the few remaining members found church homes in other denominations nearby and other moved to different localities.
The local historian comments, " There ends our Beloved Willow Creek Church. It just stands there as a monument on the hill." But does it? Who can say that its influence has not been felt in the lives of many in the church and community it was privileged to serve in its sixty-eight years of activity. From its ranks come many devoted Christian workers both lay and clergy. There were those in the membership whom the church called to serve as Sunday School teachers, as deacons, as ministers, and as missionaries in the home and foreign fields. And thus it influence continues to live and bless many lives.
Known early members of this church are as follows.
For more information about the member please E-mail me (Dennis) at orwahist@aol.com
Baker, Austin & wife Rebecca
Clemmer, Benjamin & wife Malinda
Coffman Carl & wife Ferne (Heagley)
Crowe, Emmett E & wife Esther (Mansfield)
Davis, Edith E
Delp, Chas. E Eliza C (Delp)
Dinger, Hannah - daughter of Daniel Wampler
Evans, James Mary (Hacking) - Elder
Fulker, Samuel & Mary Ann (Christian)
Harldson, Samuel Oliver & Ellen (Heagley)
Heagley, Charles & Lena Irene
Heagley, George A & Rebecca (Horning) - Minister
Heagley, Henry & Mary ( Horning)
Horning, Emma daughter of Samuel H & Hannah Horning
Horning, David - Deacon
Horning, Frank & Maud (Hurst)
Horning, Samuel H & Hanna R - Minister
Horning, William E. & Priscilla (Rittenhouse)
Horning, W. W.
Hurst, Guy P & Eva (Heagley)
Jones, Clarence S & Nellie V
Leedy, John William Sophia C (Fulker)
Loomis, Elizabeth
Loomis, Harry & Etha
Mansfield, John Morgan & Alice (Frisbey) - Minister
Mansfield, Ira - Deacon
Mansfield, Oscar - Deacon
Mabee, M - Deacon
Miller, Roger Arthur
Moomaw, George A
Moore, John E - Hecla, Brown Co., S Dak. - Minister
Root, Leonard Henry & Lola (Anderson) - Minister
Thompson, Thomas & Olive (Heagley) - Deacon
Tooker. Grant & Elizabeth Catherine (Thompson)
Wampler, Daniel Silas & Mary C (Furr)
Willow Creek church cemetery. Franklin Twp, Brown Co., SD
I would like to thank Lisa Grismer at the Alexander Mitchell Public Library for walking the cemetery and sending me
this tombstone information.
Alder, Helen (Jones) b 13 March 1925 d. 24May 2005
Baker, Hannah J b. 1833 d. 1893
Bishop, Clifford E. b. 1922 d. 13 March 1923
Bishop, Ollif E. b. d. 1923
Broadbent, James b. d. 28 Feb 1917
Crist, Etta Mae b. 1880 d. 30 Oct 1938
Crist, Geneva V. b. 1916 d. 25 Apr 1917
Crist, Infant b. d.
Crist, Ira J. b. d. 13 Sep 1911
Crist, Ira K. b. 1874 d. 16 Jun 1931
Crist, Neil b. d. 12 July 1913
Francis, Charles b. 1855 d 1907
Gamble, _________ b. d.
Green, Charlotte b. 1870 d. 1923
Gronso, _________ b. d.
Groth, Ernest James b. Jul 1946 d. 26 Jul 1946
Harmon, _________ b. d.
Harmon, Alonzo b. d.
Harmon, Evelyn b. 1852 d. 15 May 1905
Harmon, Eva E b. d.
Harmon, Obder D. b. d. 21 Feb 1919
Haroldson, Samuel b. d. abt. 1919
Heagley, Charles b. 2 Feb.1882 d. 26 Nov 1974
Heagley, Elmer F. b. 1882 d. 03 Sept 1921
Heagley, Emily b. 1893 d. 7 Nov 1918
Heagley, Frank E b. 1888 d. 1981
Heagley, Henry Christian b. 1854 d. 24 Aug 1934
The Gospel Messenger Sept. 29, 1934 page 26
Heagley, Henry C., was born at Pinegrove, Pa., Sept. 7, 1854. He suffered a paralytic stroke Aug. 20, and died Aug. 24, 1934, lacking just a few days of being 80 years of age. When a child he was baptized in the Lutheran faith. In 1868 he moved with his parents to Morrison, Ill., where he grew to young manhood and Married Mary Horning Oct. 10, 1875. She died in 1912. They came as pioneers to Brown County, S. Dak., in 1883, and settled on the farm where he lives for more than fifty years. He was the father of three sons and three daughters: there are also seventeen grandchildren and two great-grandchildren. The funeral services was in charge of Bro. Grant Tooker at the Willow Creek church and interment by the side of this wife in the adjoining cemetery. – Lena I. Heagley, Wetonka, S. Dak.
Heagley, Jennie V b. 1891 d. 1893
Heagley, Lena Irene Swank b. 2 Oct 1886 d. 19 Sep 1948
Gospel Messenger Oct. 16, 1948 page 28
Heagley, Lena Irene, was born Oct. 2, 1886, at Bellefontaine, Ohio, and died at St. Luke's hospital, Sept. 19, 1948. She was a member of the Church of the Brethren. She worked in Brethren mission in Colorado and in Los Angeles, Calif. On April 16, 1922, she was married to Charles Heagley at Wetonka, S. Dak. She served as song leader and Sunday-school superintendent at the Willow Creek church. She is survived by her husband, two sons, one brother, three sister and five grandchildren. Funeral services were held in the Church of the Brethren at Willow Creek by Rev. Rop E. Long, and burial was in the church cemetery. – Etha Loomis, Wentonka. S. Dak.
Heagley, Mary b. 1855 d. 20 Jan. 1912
The Gospel Messenger Feb. 10, 1912 page 24,
Heagley, Sister Mary, born at Fulton, Ill., Aug. 25, 1855, died at her home near Wetonka, S. Dak., Jan. 13, 1912, aged 56 years, 4 months and 18 days. She was the daughter of William and Priscilla Horning. Oct. 10, 1875, she was married to Henry Heagley. In 1883 they moved to South Dakota, where they have since resided, in the bounds of the Willow Creek congregation. Before her marriage she united with the Brethren church, and has always lived a beautiful Christian life, doing her part nobly, whether in the home or in public work. – Eve Heagley, Hurst, Wetonka, S. Dak.
Heagley, Mary Rebeeca b. 24 Dec d. 24 Dec 1916
Horning, Maud F. b. 1872 d. 7 Dec 1908
The Gospel Messenger Jan. 9, 1909 page 31
Horning, Sister Maud, nee Hurst, died Dec. 7, 1908, at her home in McPherson County, S. Dak., aged 36 years, 5 months and 24 days. The body was laid to rest in the Willow Creek Brethren cemetery Dec. 9, the eight anniversary of her baptism and consecration. Two little babes are left to the care of her husband. Her noble life goes on in the Sunday-school and church work as well as her exemplary home life. - Eva Heagley Hurst.
Horning, Pricilla b. 1827 d. 6 Nov 1894
Hurst, __________ b. 1828 d. 1928
Hurst, William H. b. 1835 d. 28 Dec 1903
Jones, Beulah May b. d. 26 Mar 1917
Jones, Clarence Sydney b. 26 July 1884 d. 18 Nov 1970
Jones, Lyle L b. 12 Oct 1921 d.
Jones, Nellie V b. 1892 d. 1985
Jones, Roy Milton b. 1929 d. 18 Mar 1930
Jones, Ruth Arlene b. d. 1933
Kinersd, Vivian b. d. 1913
Loomis, Elizabeth b. 1862 d. 6 Jul 1950
Loomis, Viola Maude b. 1918 d. 7 Jul 1919
The Gospel Messenger Aug. 9, 1919 page 511
Loomis, Viola Maude, daughter of Bro. Harry and Sister Etha Loomis, died July 7, 1919, aged 1 year, 2 months and 18 days. Services at the Willow Creek church by Rev. Dubois, of Wetonka. – Mrs. Lizzie Tooker, Wetonka, S. Dak.
Lundquist, ________ b. d.
Marsden, _________ b. d.
Martin, Hattie P b. 1861 d. 1939
Miller, Eleanor Sharon b. 1944 d. 30 Dec 1944
Miller, James b. d. 12 June 1917
Miller, Roger A. b. 1907 d. 22 Aug 1924
The Gospel Messenger Sept. 27, 1924 page 623
Miller, Roger Arthur, son of James and Mabel Miller, died Aug. 21, 1924, aged 17 years, 6 months and 19 days. He was the oldest child of the family. In July, 1922, he united with the Brethren Church. As a member of our Christian Worker staff he was interested and efficient, and found pleasure in the expression of his religious convictions through service. Services by Bro. L. H. Root, in the Willow Creek church. Burial in the church cemetery. – Lola M. Root, Wetonka, S. Creek.
Rittenhouse, _______ b. d.1891
Taylor, Alice D b. 24 May 1827 d. still alive
Taylor, Humphrey S. b. 1926 d. 20 Jun 1991
Thompson, Ada D. b. 1889 d. 1904
Thompson, Adam b. 1860 d. 6 Jul 1917
Thompson, Dora L. b. 1891 d. 1905
Thompson, Frances M. b. 1872 d. 18 Oct 1916
Thompson, Hall E. b. 1836 d. 3 Mar 1904
Thompson, Ida R. b. d.
Thompson, E b. 6 Jan. 1836 d. 3 Mar. 1904
---
All rights reserved - May not be mass-produced or used in any form for commercial purposes.